Application Last Date: 15/03/2023
Rashtriya Gaurav Top 30 Icon Awards
Rashtriya Gaurav Top 30 Icon – Award is an honor to all those dignitaries who have performed a perfect contribution in their respected field. Rashtriya Gaurav has been defined by many aspects, one of the most important of which is the development of rural India. Rural development affects most economic reforms and brings greater social transformation to society. To provide better prospects for the economic development of rural India, it is important to encourage large numbers of people to participate in rural development programs. The summit will share various ideas and the solution to make our country proud.
Participation for only pre-registered delegates, there is no onsite registration at the conference venue.
Rashtriya Gaurav "राष्ट्र के लिए गर्व"
RASHTRIYA GAURAV TOP 30 ICON AWARDS
राष्ट्र गौरव टॉप 30 आइकन पुरुस्कार
Rashtriya Gaurav Top 30 Icon Award, is an acknowledgment for all the dignitaries who have made a perfect contribution in their honor field. Our initiative has been to foster creativity, innovation and effectiveness in the industry. The Top 10 Winners will be selected from their selected category in National Pride Top 30 Icon. Categories such as 1) Education, 2) Health, 3) Community Building as a social activist, 4) Authors, and 5) Businessman etc.
राष्ट्रिय गौरव टॉप 30 आइकन अवार्ड, उन सभी गणमान्य व्यक्तियों के लिए एक सम्मान है जिन्होंने अपने सम्मान क्षेत्र में एक आदर्श योगदान दिया है। हमारी पहल उद्योग में रचनात्मकता, नवाचार और प्रभावशीलता का मनोबल बड़ाने के लिए गया है। राष्ट्रीय गौरव टॉप 30 आइकन विजेताओं में देश के टॉप 10 गणमान्य व्यक्तियों को प्रत्येक श्रेणी जैसे शिक्षा, स्वास्थ्य, सामाजिक कार्यकर्ता व व्यवसायी इत्यागी श्रेणी में राष्ट्रीय गौरव टॉप 30 आइकन पुरुस्कार से सम्मानित किया जायेगा।
The National Pride Award is a prestigious award that is given to individuals who have made significant contributions to the country. This award is a symbol of the highest honor and recognition.
This award is given to individuals who have made selfless sacrifices for the betterment of their nation. The recipients of this award are typically nominated by their fellow citizens and then chosen by a panel of judges. This award is given out annually and is one of the most coveted awards that a citizen can receive.
The nominees/ applicants can fill their nominations form in the above mentioned link. The awards will culminate in the ceremony to honor the award winners in designated location.
Stage 1: Apply online.
Stage 2: Providing all the supporting data with your previous achievements.
Stage 3: Submit all the formalities includes.  
Stage 4: Share the details with us or write us at pushkar@goldeneraevents.com
The panel of jury will shortlist the selected participant who will be then honored with an award.
Jury reserve all the rights to reject/ deny/ cancel any of the application at any time without any prior notice. Please read

 

procedure

 

of this ceremony. 
The decision of our jury is final.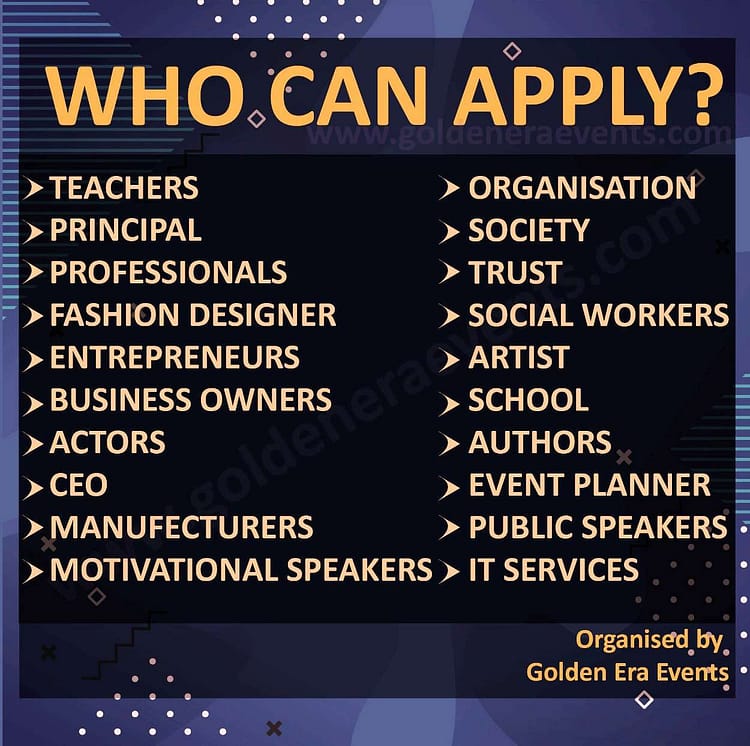 WHAT ARE THE PHASES?
Rashtriya Gaurav Top 30 Icon Awards: Digital Edition has been divided into three phases where the Top 10 great dignitaries from every field will be felicitated with RGA Top 30 Icon Awards in every phase.
WHAT IS THE DATE OF PHASE 2?
Please check the date mentioned on the application form. Every phase a different criteria to apply whereas different fee is applicable.
WHO CAN APPLY?
The nomination is open to anyone working in public relations, advertising, digital and social media firms, marketing, corporate communications, investor relations, public affairs, employee communications or any other field related to branding, reputation management and stakeholder engagement. We welcome entries from consulting firms, agencies, corporate departments, not-for-profit organisations, government agencies or other institutions, without restriction.
WHEN & HOW WILL IT BE CELEBRATED?
Please check the date and venue mentioned on the application form.
ARE ENTRY FORMS KEPT CONFIDENTIAL?
Yes. The organizers ensure that only authorized judges will review entries, and that information about nominees is not released to anyone else without prior approval.
WHEN & HOW THE WINNERS WILL BE DECLARED?
The RGA Top 30 Icon Award Winner will be announced on their mentioned date on our official website tab for RGA-Top 30 Icon.
RASHTRIYA GAURAV TOP 30 ICON AWARDS 2022 IS AN ICONIC PRIVATELY ORGANISED AWARD. OUR INITIATIVE IS TO CELEBRATE THE CREATIVITY, INNOVATION AND EFFECTIVENESS IN THE INDUSTRY.
Rashtriya Gaurav Top 30 Icon Award organise to recognize the great efforts and contribution in nation's building. This is an honor for all those dignitaries who have performed a remarkable contribution in their respected field.
LIST FOR RGA PHASE 1, Phase 2 & PHASE 3 (2021)
Rashtriya Gaurav Top 30 Icon Awards Phase 1(2021) was celebrated on 24 January 2021. Rashtriya Gaurav Top 30 Icon Phase 2 was celebrated on the World Environment Day. The day is celebrated on June 5 every year to remind people about the importance of nature. Rashtriya Gaurav Top 30 Icon Phase 3 celebrated on Universal Children's Day. It is celebrated across the globe to tell people that nature should not be taken for granted and must be respected for its values. With the coronavirus outbreak and people being confined indoors, the environment and mother earth seem to have benefitted slightly. In the absence of human activities amid the coronavirus-induced lockdown, nature is getting time to clean itself and reclaim its space.
Rashtriya Gaurav Top 30 Icon Awardees Phase 1, 2 AND 3 List
Heartiest congratulations to all our awardees, sponsors, nominees and the entire team of Golden Era Events. Congratulations to all our awardees for winning the national award for the Top 30 Icon Awards. Today, on the occasion of Universal Children's Day, we are pleased to announce the Top 30 Iconic personality along with the title winner of an organisation. Please click on the RGA TOP 30 AWARD PHASE 1,2,3 WINNER.
Rashtriya Gaurav Top 30 Icon Awards Winner Phase 2
Rashtriya Gaurav Top 30 Icon Awards Phase 1
Rashtriya Gaurav Top 30 Icon Awards Phase 1 was declared on 24th January 2021- dedicated to the nation and the celebration on Republic Day of India. The Top 10 winners was declared in phase 1 including Mrs. Vaishali Patil, Dr. Nitasha Bali, Dr. Sinchan Das, Dr. B. John Robert, Dr. Vivekananda Chakroborty, Mr. Mayur Patil, Dr. Ashok Laxmi Sahu, Dr. Murali Krishna Dantu, ISERD Organisation, and K-plus Infotech. To know more about Phase 1 (2021) Please Click Here
We are pleased to announce our RGA Top 30 Icon Awards Phase 1 winner. Top 10 Winners have been selected for Phase 1 for their significant contribution in Nation building.
DR. ASHOK LAXMI SAHU
Founder of Sumitra Foundation, Mumbai, Maharashtra
DR. B. JOHN ROBERT
Assistant Professor, Andhra Pradesh
MRS. VAISHALI PATIL
Clinical Dietician, Dubai
DR. VIVEKANANDA CHAKROBORTY
Headmaster, Midnapore Town School (H.S.), Heritage, West Bengal
Mr. Mayur Patil
Real estate, Maharashtra
Winners for RGA Top 30 Icon awards have been announced. Rashtriya Gaurav Top 30 Icon Awards are dedicated to the Nation.
Rashtriya Gaurav Top 30 Icon Award Winners (Phase 1,2 Winners 2021)
DR. VIVEKANANDA CHAKROBORTY
EDUCATION & LITERATURE
DR. B. JOHN ROBERT
ASSISTANT PROFESSOR
DR. MURALI KRISHNA DANTU
SCIENTIST, WRITER, SINGER
MRS. VAISHALI PATIL
CLINICAL DIETICIAN
DR. ASHOK LAXMI SAHU
FOUNDER SUMITRA FOUNDATION
DR. NITASHA BALI
PRINCIPAL, JAMMU
MR. MAYUR PATIL
PATIL CONSTRUCTION & BUILDER'S
DR. SINCHAN DAS
HEALTH SCIENCE RESEARCHER, & HOMOEOPATHIC PSYCHOLOGIST
INSTITUTE FOR SELF EMPLOYMENT AND RURAL DEVELOPMENT
K-PLUS INFOTECH(MUMBAI)
DIBYAJYOTI SAIKIA Human Rights & Social Activist
DR PRITI SHRIMAL Principal, Billabong High International School, Vadodara
DR. CHANCHAL GUPTA Founder ODONT Academy of Learning, Bangalore
INSPIRING INDIAN WOMEN Director – Mrs. Rashmi Mishra
DR. SANAP SANDIP RAMNATH Director Ramson Group of Companies
DR. SIDHARTH S. RAJU H.O.D. (Hospitality Mgmt.) Vivekananda Global University
DR. AMBRISH VIJAYAKAR Managing Director, Predictive Homoeopathy, Mumbai
M/S. ANJANA GROUP Director Mr. Gopinath Mohapatra
MR. AVINASH TRIPATHI Founder IACCF, & Film Maker, Mumbai
SH. JABRA RAM KANDARA Poet & Head Teacher, Rajasthan 
ADV. RUBINA AKHTAR HASAN RIZVI Director Rizvi Springfield High School CBSE, Mumbai
GLOBAL MULTI SOLUTIONS Director Mr. Sharathi Kumaar
MR. DHRITABRATA SARKAR Assistant Teacher Vivekananda Vidyapith, West Bengal
MR. SAURABH SETHI Vice President Nishchay Education, Patiala
DR KANCHAN NEGI Prop. Apka Business Solutions, & International Trainer, Dehradun
MR. RAMANIK LEANGURE Career & Job Counselor, Maharashtra
DR. PANKAJ PANDURANG BHALERAO Assistant Professor Gujarat
MRS. MAMTA BAKSHI Academic Director, Cambridge Overseas International School, Punjab
MRS. SPRUHA SURESH INDU Social Activist & Primary Teacher
MR. RAJSHEKHAR G. RATHOD Assistant Professor, MIT School of Engineering MIT ADT University
MISS. PRIYANKACHANDAN Junior Embryologist Health Sector, Delhi
DR. NARINDER KUMAR Associate Professor
DR. MOHD SHAMIM Assistant Professor, Department of English
MISS. HARSHA SHARMA – E-Learning Project Manager
DR. NAND RAM NAGAR AKA ARYAN Achor & Motivational Speaker, Rajasthan
MR. GOUTAM BANERJEE Head Teacher MR. SUBALA MAHARANA Senior Sand Artist and Social
MR. KISHOR KUMAR DASH TEACHING FACULTY, ODISHA
DR. SAPTARSHI GHOSH Prof and Head of The Department, Center for Innovation & Incubation, NSHM Knowledge Campus – Kolkata & Durgapur
MRS. JAYA SANJAY GUPTA Director, Aishwarya Hobby Classes and Art Gallery
MR. SANDEEP KHANTWAL Assistant Professor, Field Educations & Arts
A. K. AZAD – Senior Artist & Social Reformer, Uttar Pradesh
In 2019, The National Youth Conclave & National Gaurav Awards was organized by Golden Era Events & Promotions in the premises of Delhi Press Club of India. In which the ultimate revered "Swami Shri Trilokinath ji" launched the first poster of "Hoonar India" program for the children of government schools in the country on the occasion of his birthday, as well as young people from many states of India for their national interest was honored.
Rashtriya Gaurav Award 2019 Case Study
WHO ARE THE ORGANISERS?
RGA Top 30 Icon organised by  M/s Golden Era Events. The company has previously successfully organized many commercial, mythology events and social events as well as Award Ceremonies and cultural events in 2021
HOW WILL A WINNER RECEIVE THEIR AWARD KIT?
Winner's Felicitation: The winner's will be felicitated digitally on the web. As a title winner they will receive their award e-certificate on their registered email.
IS THERE A FEE FOR SUBMITTING ENTRIES?
Entry fee depends upon event to event and as per venue. Refund policy -Fee is subject to refundable policies if the nominee is not eligible for the award. Please refer to our refund and cancellation policy page.
Mrs. Mamta Godiyal Founder MG. Warriors  – Rashtriya Gaurav Award 2019-2020
Mr. Huvgenour Praveen – Rashtriya Gaurav Award 2019
Manish Kumar – Rashtriya Gaurav Award -2019
Bachchalal Tripathiyash Singhania – Rashtriya Gaurav Award -2019
Surender Kumar – Rashtriya Gaurav Award -2019
Umesh Bollarapu – Rashtriya Gaurav Award -2019
Varsha Ghawalker – Rashtriya Gaurav Award -2019
Vedant Jain – Rashtriya Gaurav Award -2019
Venkata Ramana Azmeera – Rashtriya Gaurav Award -2019
Srinivasan M. Iyer – Rashtriya Gaurav Award -2019
Sruthi Kasula – Rashtriya Gaurav Award -2019
Sumalatha Pulijala – Rashtriya Gaurav Award -2019
Sumit Prakash – Rashtriya Gaurav Award -2019
Sumit Urkudkar – Rashtriya Gaurav Award -2019
Shailaja Tippani – Rashtriya Gaurav Award -2019
Shaheen Sayyed – Rashtriya Gaurav Award -2019
Satya Dev Tiwari – Rashtriya Gaurav Award -2019
Rohith Vakrala – Rashtriya Gaurav Award -2019
Richa Shivangi Gupta – Rashtriya Gaurav Award -2019
Malika Taneja – Rashtriya Gaurav Award -2019
Nishi Rastogi – Rashtriya Gaurav Award -2019
Himaja Chilukuri – Rashtriya Gaurav Award -2019
Hv Prasad Juvvireddi – Rashtriya Gaurav Award -2019
Jayanth Kumar Perugu – Rashtriya Gaurav Award -2019
Aditya Kumari – Rashtriya Gaurav Award -2019
Kapil Kumar – Rashtriya Gaurav Award -2019
Nikhil Chandwani – Rashtriya Gaurav Award -2019
Mahesh Shukla – Rashtriya Gaurav Award -2019
Atargu Manoj Kumar Reddy – Rashtriya Gaurav Award -2019
Atargu Uday Reddy – Rashtriya Gaurav Award -2019
Chandan Jaiswal – Rashtriya Gaurav Award -2019
Deepika Devuluri – Rashtriya Gaurav Award -2019
Dharmana Shanmukha – Rashtriya Gaurav Award -2019
Aparna Challa – Rashtriya Gaurav Award -2019
Anagha Sadvarte – Rashtriya Gaurav Award -2019
Amala Kalapala – Rashtriya Gaurav Award -2019
Adarsh Kumar – Rashtriya Gaurav Award -2019
Director
Pushkar Mehta CEO Nation's Pride Book of Records
"A dream does not become reality through magic; it takes sweat, determination, and hard work." "I'm a great believer in luck, and I find the harder I work, the more I have of it." "Doing the best at this moment puts you in the best place for the next moment." "Hard work beats talent if talent doesn't work hard."
Hits: 2411